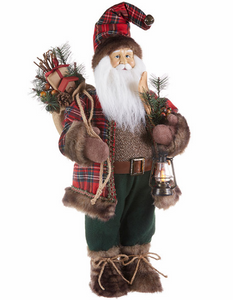 Santa is coming straight in from the snow-covered outdoors, bearing his LED-lit lantern, a bag of greenery, gifts and a birdhouse (yes, a birdhouse!). 
The amazing attention to detail is evident in the intricate stitching along the edges of his jacket, jeweled belt buckle, and fur trimmed jacked and boots!
This Santa is sold out from the manufacturer, so unfortunately this item will not be restocked...only one left!
(Freestanding; does not require stand or shelf. Includes 3 LR44 Batteries.)